First thing's first, Yes, That's a 125x optical zoom sitting at the front of the brand new Nikon Coolpix P1000 scheduled for release in September 2018*.
With its large range of (24-3000mm equivalent), you can experience telescopic reach from the palms of your hand, and to make things even more impressive, the quality is brilliant throughout!
Bring your cinematic vision to life
4K Ultra HD video with stereo sound
Harness the flexibility of the COOLPIX P1000's incredible lens and high quality image sensor to create amazing video content in 4K UHD (3840 x 2160 at 30p) with true stereo sound. For greater control of your videos, manual mode allows you to adjust focus, exposure and more during recording.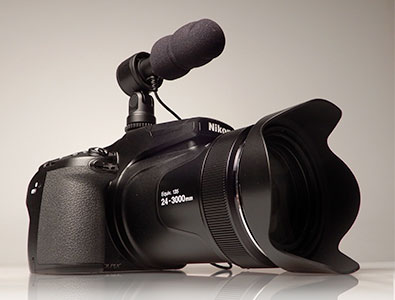 Production-ready
When it comes to videos, the COOLPIX P1000 won't leave you wanting. It includes an HDMI port for recording and playback to an external monitor, a microphone jack for optimal sound capture, and a hot-shoe for mounting even more filmmaking accessories.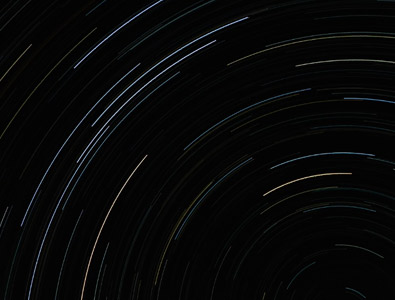 Warp time
Create extraordinary fast-motion footage with the COOLPIX P1000's time-lapse and superlapse recording modes. Time-lapse combines still images shot at customizable intervals into a 10 second video, while the Superlapse feature can capture video at speeds of 2x, 4x, 10x, 20x, and 30x.
A marvel of optical ingenuity
Intuitive lens and camera control at your fingertips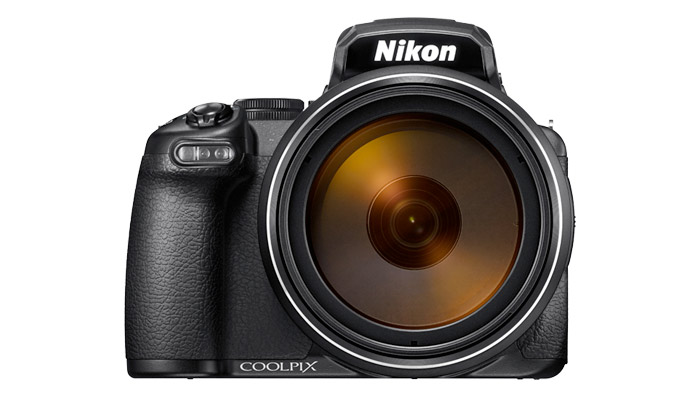 The COOLPIX P1000's miraculously compact lens design puts the power of a massive professional super telephoto lens into a compact bridge zoom camera design along with convenient external control features like a smooth focus control ring, snapback subject acquisition checking and AF/MF switching; and some of NIKKOR's most advanced lens technologies.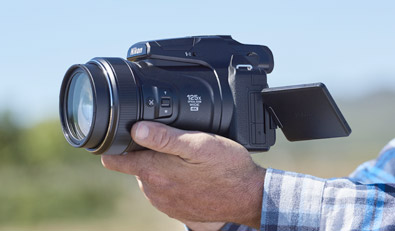 Smooth control ring
The COOLPIX P1000's smooth operating control ring provides next-level operation, enabling you to intuitively adjust focus in MF mode or exposure, white balance or ISO in AF mode right from the lens barrel without having to look away from the viewfinder.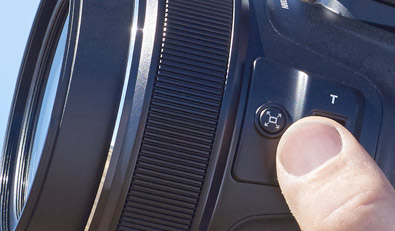 Snapback zoom button
With the press of a button, the COOLPIX P1000 zooms out so you can easily recapture distant subjects that may have moved out of frame. Release it and your focal length snaps right back to where it was.
Versatility that ignites creativity
Near, far and everything in between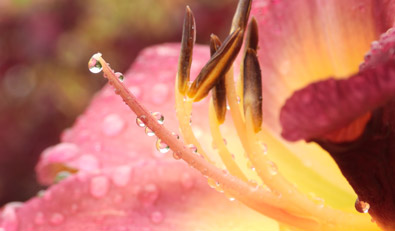 Reveal hidden worlds
Use the extreme zoom power of the COOLPIX P1000 on close subjects for macro photography and reveal the smallest details. Focus as close as 1 ft. from your subject.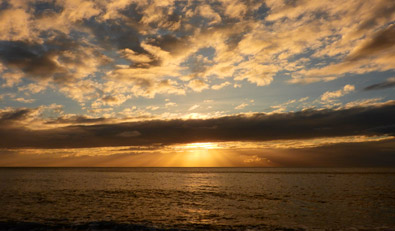 Shoot from dusk until dawn
The COOLPIX P1000's fast f/2.8 maximum aperture, backside-illuminated image sensor, high ISO capability and EXPEED 4 image processing power through low light situations.
Form and function in harmony
Advanced design features for advanced usability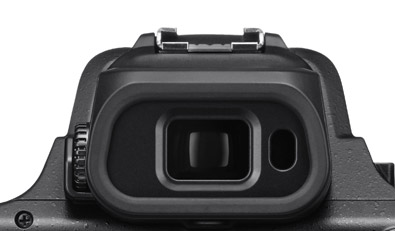 A brilliant view
Comfortably compose your shot with the COOLPIX P1000's crystal clear, 0.39-inch 2.36 million dot electronic viewfinder, perfect for handheld shooting.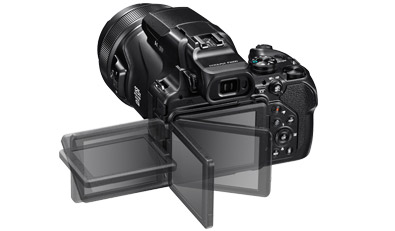 Shoot from new angles
Not only does the 3.2-inch 921,000 dot LCD display offer brilliant composing and playback, but its Vari-angle functionality lets you frame shots from tricky high or low angles with ease.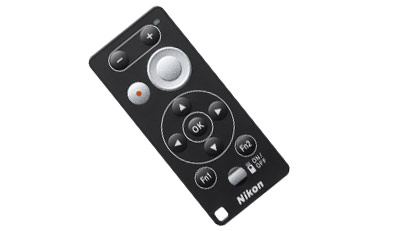 Remote control
The new ML-L7 Remote Control allows various camera functions, such as zoom, aperture, ISO and the COOLPIX P1000s shutter to be triggered remotely without disrupting the camera and your composition during super telephoto shooting.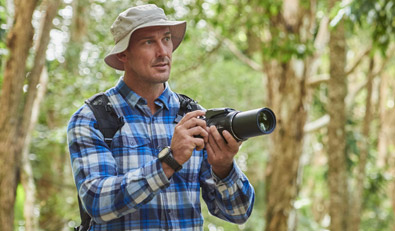 Outstanding handling
The front and rear grips on the COOLPIX P1000 were specially designed to enhance holding and minimize fatigue as a result of extreme telephoto shooting.
Shoot and share with a compatible smartphone
Works with the Nikon SnapBridge app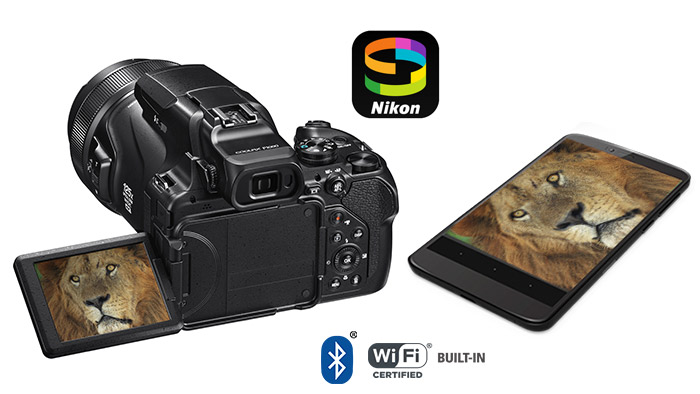 Show off the COOLPIX P1000's incredible zoom shots instantly on social media thanks to Nikon's SnapBridge app for iOS® and Android™. SnapBridge pairs easily with Bluetooth/Wi-Fi® enabled Nikon cameras like the COOLPIX P1000 and allows you to send photos from the camera straight to your smartphone, then edit and share like normal.
Great photos and videos from day one
Automatic features for point and shoot simplicity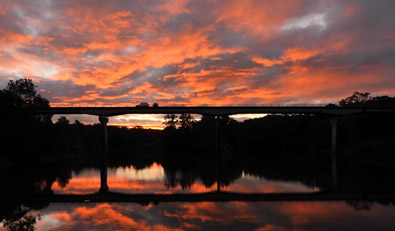 Point and shoot simplicity
The COOLPIX P1000 has a host of automatic functions to help you capture great photos from day one. Scene modes optimize settings for a selected scene type such as portrait, sunset, landscape, night and more, while auto ISO, exposure and white balance ensure great, hassle-free results so you can focus on getting the shot.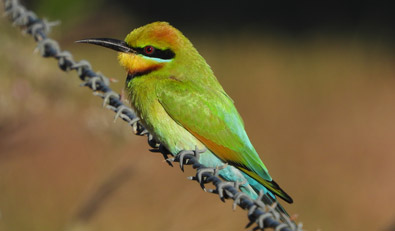 Moon and bird modes
Take the guess work out of shooting tricky far off subjects. Moon mode automatically compensates for low light astrophotography while the advanced bird-watching mode optimizes the camera's settings for capturing elusive creatures.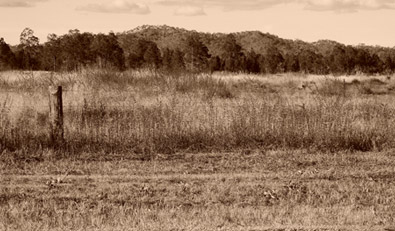 Creative modes
Stylize your shots with easy-to-use filters organized in five groups: Light, for brightening color, Depth for calming atmosphere, Memory, for creating old-fashioned looks, Classical, for traditional photo effects and Noir, a collection of monochrome tones.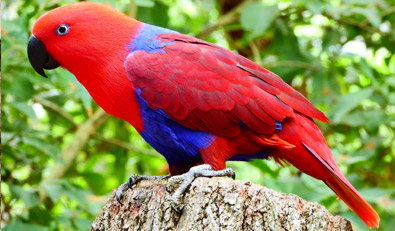 Picture controls
Find the right look for any scene with Nikon's Picture Controls. Shoot in Standard, Neutral, Vivid or Monochrome and find a style that's all your own.
More Information

| | |
| --- | --- |
| Part Number | 018208953356 |
| Brand | Nikon |
| MegaPixels | 10-15MP |
| Optical Zoom | More than 50X |
| Video Resolution | 4K |
| Liveview | Yes |
| Touchscreen | Yes |
| Available Colours | Black |
| Filter Size | N/A |
| LCD / Screen Size | 3.2" |